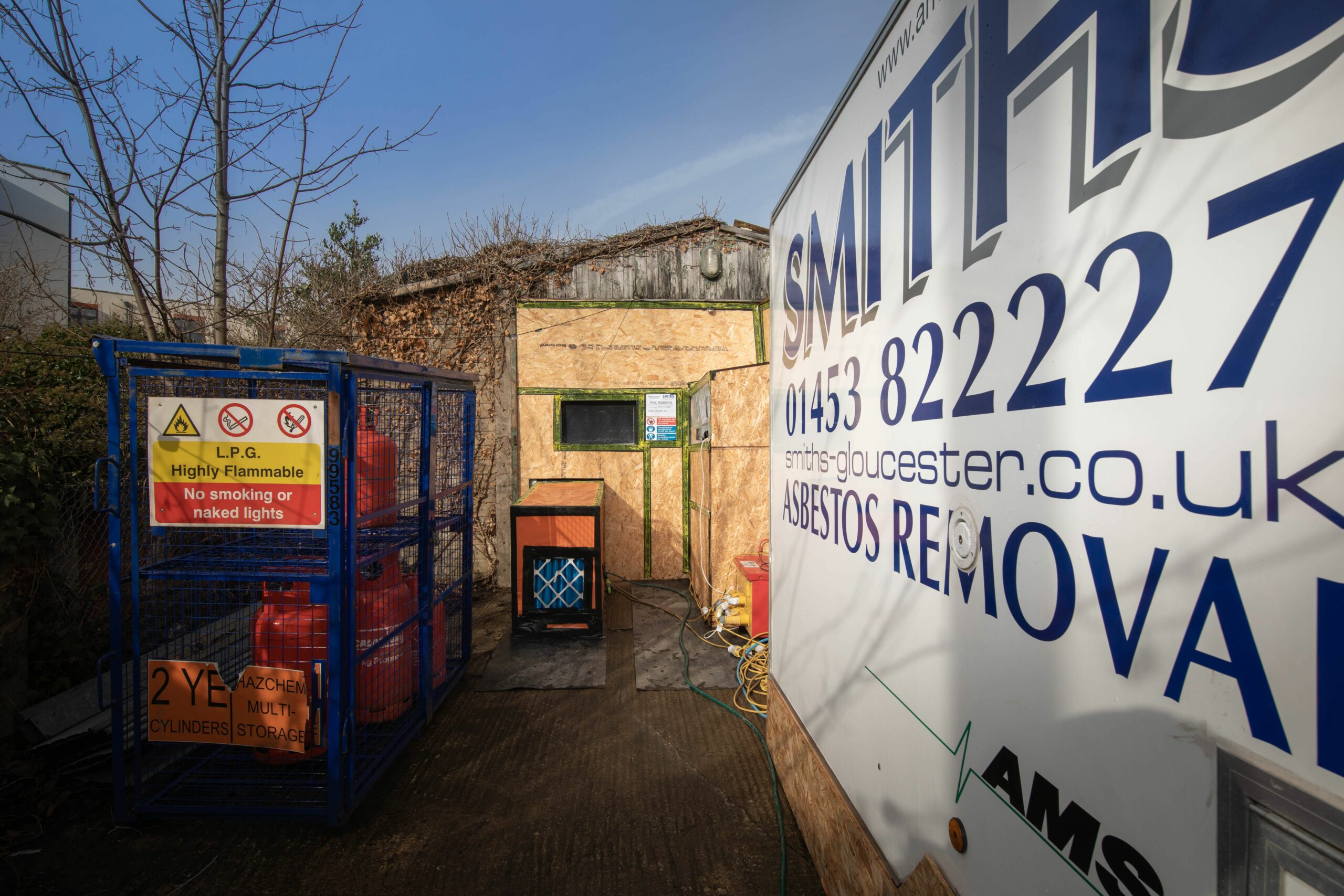 Asbestos Services
Smiths are a fully HSE licensed Asbestos removal contractor
We have been providing clients the highest standard of Asbestos removal services for over 20 years. See below for our Asbestos Surveying and Sampling, Types of Surveys and also Asbestos Management Plans.
Asbestos Removal
Asbestos Removal Services Includes:
Asbestos Removal
Asbestos Encapsulation
Environmental Cleaning Services
Asbestos Collection and Disposal Services
Removal of Asbestos Products Includes:
– Asbestos cement products, roofing, wall panels, rainwater goods.
Asbestos insulation board, ceilings, partitions etc.
Asbestos insulation coating, pipework and H&V insulation
Textured coatings
Sprayed asbestos insulation
Asbestos gaskets, ropes, seal etc.
Asbestos Surveys
Management Surveys:
This survey will involve minor intrusion and some disturbance to locate, as far as reasonably practicable, the presence, extent and condition of any suspect ACMs in the building which could be damaged or disturbed during normal occupancy including foreseeable maintenance and installation works.
Refurbishment and/or Demolition Surveys:
This a fully intrusive and destructive survey inspection used to locate and describe, as far as reasonably practicable, all ACMs in the area where refurbishment works will take place or in the whole building including those that may be difficult to reach, if demolition is planned.
In addition to Asbestos Surveying we can also undertake and assist with the following:
Asbestos Sampling and Analysis
Completion of Priority Risk Assessments
Completion of Asbestos Management Plans
Identification of Asbestos in Soils (Contaminated Land Assessment)
Our professional asbestos surveyors are all trained and certified to British Occupational Hygiene Society (BOHS) P402 standards as a minimum, with experience and employment backgrounds in petrochemical, construction, building surveying, environmental science and consultancy. This ensures that our surveying team can deliver quality checked and technically accurate survey reports, which are in compliance with the latest standards and industry best practice.
Our Management Plans
The asbestos survey is the initial fact finding exercise in managing your asbestos products effectively, once this has been undertaken you will need to formulate an asbestos management plan with the asbestos survey being the cornerstone of plan. An up to date asbestos management plan will ensure that you manage your asbestos in accordance with current legislation and regulations and should incorporate the following:
Information from the asbestos survey report
The likelihood of people coming into contact with asbestos
The measures you need to employ to control the risks from asbestos within your premises
Why Smiths for Asbestos Services?
HSE licensed asbestos removal
Smiths expanded our demolition services to include HSE licensed Asbestos removal in 2004 and have a full Health and Safety Executive (HSE) licence to undertake work with asbestos.
Our processes and procedures are rigorously reviewed by the HSE every three years.
As a HSE Licensed Asbestos Removal Contractor (LARC) Smiths provides a comprehensive range of asbestos removal, encapsulation and decontamination services under this license, using the tried and tested techniques to industry standards.
Smiths deliver Asbestos survey and removal services across a range of sectors including residential clients, education, housing associations construction, retail, NHS and local Government.
All Smiths Asbestos Supervisors and Operatives are fully trained and hold the appropriate certificates and well as receiving medicals.
Smiths are licensed waste carriers and licensed waster operators, meaning we can provide a full end to end service from the initial survey, report, removal to waste disposal via our licensed waste transfer stations.
Smiths are compliant with the Control of Asbestos Regulations 2012 and the HSE Approved Codes of Practice (ACoP) L143, with policies and procedures in place to ensure a consistent level of service.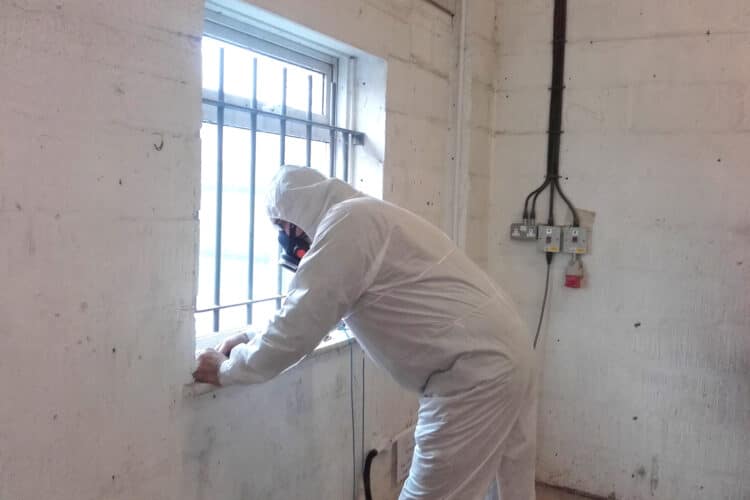 What our customers say
I'd like to express my gratitude to your employees, and also to say thank you for the amazing customer service I received during my recent skip hire.
I filled out the enquiry form online, received a call promptly from the Cardiff office, the lady I spoke to was very polite, great customer skills and very clear and concise, and explained the various options of the skip hire.
I also want to extend a special thank you to the skip delivery driver, outstanding service, really went above and beyond to deliver the skip safely and expertly, especially in a street that isn't the easiest to turn a large vehicle in. This experience has cemented my views about Smiths as a company and I always recommend them to friends and family due to the continued great service I have received.
Ross – Skip Hire Customer 
The service from Smiths was as always well executed and this year seemed even more slick, with good communication between us throughout the weekend. The pace of clearance from the Smiths team kept ahead of the rate at which rubbish was being generated. We are very pleased.
Nav Ali – Marlow Town Regatta Committee 
It was our first time using Smiths for our festival, Dubs in the Middle and we are very impressed! Adam was extremely helpful with booking it all in. The team on site were all lovely who worked all weekend and even on a Sunday! Loved the bins themselves, lighter weight being plastic not metal so made my life easier moving them about the site. We will definitely be using these guys yearly now. Thank you all so much!!
Natalie Elliot
Dubs in the middle LTD
"I would like to take this opportunity to thank Smiths for their co-operation with this project and in particular Tim who has been a credit to your company. Our thanks to all your employees who have worked on this project and have helped Barnwood Construction in producing a first class facility for Triumph"
Steve Dixon
, Site Manager
"I have been in the events industry for 20+ years and have employed various companies for site cleansing at my events. I was extremely impressed when Smiths started to work with us 3 years ago on 'The Mountain Bike Gatcombe and Thunder Run'. The service was excellent from the start and continues to be so today. Your staff, without exception, are the nicest, most hard working group of people I have met. I can stage events at prestigious locations in the confidence that not only will the site be kept clean & tidy throughout the event but I know I can hand back a site to the landowner in the best possible condition. Thank you for your superb service I would certainly have no hesitation to recommend Smiths as the first choice for any event organiser"
PVS Events Ltd
"2019 was a bumper year for us which was a fabulous way to celebrate our 175th anniversary. More visitors obviously means more work for you & the team so thank you for all your hard work. Our visitors were heard to comment that they were amazed how clean the showground was with no litter to be found! Well done Team Smiths!"
Nia Osbourne
, USK Show
"Just wanted to thank you and your team for the service I have received during the Bristol Nightingale Hospital project, as you are aware the project was of the utmost urgency and lets hope it is not required!  It goes without saying if you guys had not performed as you did there is no way the result would have been the same.
It was fantastic that the whole team went over and above my expectations allowing me to concentrate on my tasks and if not for your amazing response rates we would have been double or tripling up on our already impossible work loads.
I would happily and highly recommend Smiths to any prospective clients"
Darrell Pearce
, For and on behalf of O'Neill & Brennan Logistics
"We have been working with Smiths for seven years and as the event has grown so has the need for efficient and reliable waste management. Smiths have provided that service impeccably, are very easy to deal with, their team works relentlessly throughout the day and well into the evening afterwards. We are committed to using as many local companies as we can and Smiths will always be our first choice for waste management"
Frampton Country Fair
"Thank you for the work carried out this week. The Smiths team worked well and they were very helpful, it was a pleasure to work with such a good crew"
Cotswold Canal Trust
"The Cancer Research UK Race for Life at the Dudley went really well and the service provided was excellent. I've never had an event site so tidy"
Tracey Duffy
, Area Event Manager
"I would highly recommend Smiths to any event or person. They are a fantastic team of people who thrive off of doing a fab job. They managed to keep Chatsworth Horse Trials clean at all times and were a lovely friendly bunch. Many thanks to all at Smiths"
Chatsworth Horse Trials
"Smiths Event Waste Management were proactive by circulating throughout the picnic areas constantly removing rubbish as it was dropped. On Saturday the team must have worked through the night clearing rubbish from the individual picnic pitches as the area was extremely tidy for the next day's events in the arena. In addition the regatta committee were told by one or two visitors what a good job was done"
Julian Coster
, Event Organiser, Marlow Town Regatta
"We had a visit from our group safety inspector on site and achieved another excellent score. I just wanted to say thank you your team's efforts to date. Our regional health and safety manager was also on site this morning and was very complimentary about the progress being made and the quality of the supervision on site"
Dan Pascoe
, Assistant Building Manager, Willmott Dixon Construction
"Waste was a massive stress for us as festival organisers. We tried for a few years to manage the bin provision and refuse disposal ourselves to save money. We started using Smiths and it became clear these guys were experts. We now outsource all of site tidying and clean up to Smiths and it was the best thing we ever did. We have no worries and no hassle – we have an extremely clean festival using Smiths experience. Meaning we can focus on making our customers happy and concentrate on running a safe and fun event. I couldn't recommend Smiths highly enough. They are a pleasure to deal with and seriously professional giving outstanding results at decent value"
Lee Martin
, LakeFest
"We recently switched our waste collections over to Smiths., having been let down numerous times by our previous contractor (one of the UK's leading Waste Management companies).
Since switching, Smiths have collected exactly as agreed, without fail. The communication of changes in collection dates around Christmas and the New Year was much appreciated and helped us manage our operations effectively at a very busy trading period. The team at their Cardiff office are friendly, helpful and efficient too, and will adapt collections where possible to meet our needs. Overall Smiths provide good value"
Whitmore & Jackson
"The Smiths team provided the waste management services for 2019's BMAD festival. We were incredibly impressed with the teams pre-planning and communication and on site they were dedicated, hard working and thorough. It was refreshing to work with a company that provided everything we needed and more to ensure the job was done to a high standard. It made a huge difference to the BMAD team to be able to not have to think twice about the waste knowing it was in competent hands. We look forward to working with them again"
Laura
, Event Manager, BMAD Festival
"Smiths were the chosen contractor again at this year's Moreton Show for our refuse requirements. There were 20,000 plus visitors at the event but you would not know this looking at how efficiently the rubbish was managed. Smiths were consistent all day in servicing and on the day following the show the whole site was efficiently swept, meaning the fields are now able to be handed back for livestock usage promptly. In addition to providing a great service, in today's environmentally conscious world, the fact that none of our event waste ends up in landfill is also a big bonus"
Melissa Harrison
, Event Organiser, Moreton Show
"Our remediation project carried out at Gloucester Quays in 2018 has recently won a 2019 Brownfield Briefing Award for best re-use of materials, which was great news – we wanted to say many thanks from Soilfix for all of Smiths' work in providing demolition, operated plant, waste disposal and aggregate supplies to support the successful completion of this challenging project"
Steve Jackson
, Director, Soilfix
"The team at Smiths have done a brilliant job, respected the site and a nice group of lads to deal with. I am grateful to everyone involved – Thank you"
Mr Carpenter
, Domestic Customer
"What Smiths achieved in such challenging conditions and in such a short timeframe was outstanding"
David Martin
, Commercial Manager, Stanford Industrial Concrete Flooring Ltd
"The past several weeks have been particularly trying for everyone in our industry and I know everyone has been up against it.
The team you have managing all of our queries and requests have been fantastic. Very professional and quick to come back to us on all matters. And an a pleasure to deal with at all times"
Danielle
, Procurement Manager
Case Studies
Case Study

BASC Gamekeepers' Fair

Smiths Waste Management supplied equipment and three members of staff to dispose of the...

Case Study

Gloucester Rugby Club C&G Stand

The project comprised of the removal of asbestos, demolition of the main stand and the crushing...

Case Study

Clifton Cathedral

Smiths Asbestos Removal were sub-contracted by William Anelay Ltd to carry out the works on the...
Accreditations